Onet joins Fabrice Amedeo's fight to protect the environment
The Onet group has signed a 3-year partnership to support Fabrice Amedeo's project. Working closely with the international scientific community, the French sailor has been navigating the world's oceans in an IMOCA yacht to raise awareness for the environment.
Onet's generous funding of the racing boat's on-board sensor has made this mission possible.
After placing first in the 2017 Vendée Globe race, Fabrice Amedeo realized that sailing was no longer enough for him. He wanted to use his skills to make a difference.
The skipper had previously sailed in parts of the world where access with difficult access for scientific expeditions. So he decided to use his racing boat for the benefit of the international scientific community.
With Onet's support, he installed oceanographic sensors on his yacht to collect data that will help scientists better understand the impact and consequences of global warming and greenhouse gases on the world's oceans.
The sensors are made up of various modules that gather information about water salinity, CO2 levels and phytoplankton content.They have allowed scientists to collect offshore data at an unprecedented scale, in areas that research vessels normally access once every 10 years. The data is then made available to scientific centers such as the Ifremer institute, where it will be used for climate research. Ils pourront alors les exploiter dans leurs recherches sur le climat. The analysis of this data will contribute significantly to the development of climate change models and the study of ocean pollution levels. This in turn will help scientists to preserve biodiversity and prevent any further decline of our ecosystem.
After testing the effectiveness of one oceanographic sensor and consulting with his scientific partners to confirm the relevance of his results, Amedeo decided to install a second sensor to collect and measure microplastic levels in the ocean over the course of the Vendée Globe race. This kind of research was especially important in the South Seas, where the scientific community only has access about once every ten years. The second sensor is a box with three filters designed to collect daily samples of microplastics of various sizes. It can be used when weather conditions allow.
Why invest in partnerships like this one?
Onet's partnership with Fabrice Amedeo is in line with our responsible development approach. The Onet group has three main commitments:
to favor techniques, methods and equipment that use fewer natural resources and respect biodiversity;
to promote the circular economy through its services;
to favor low-carbon activities.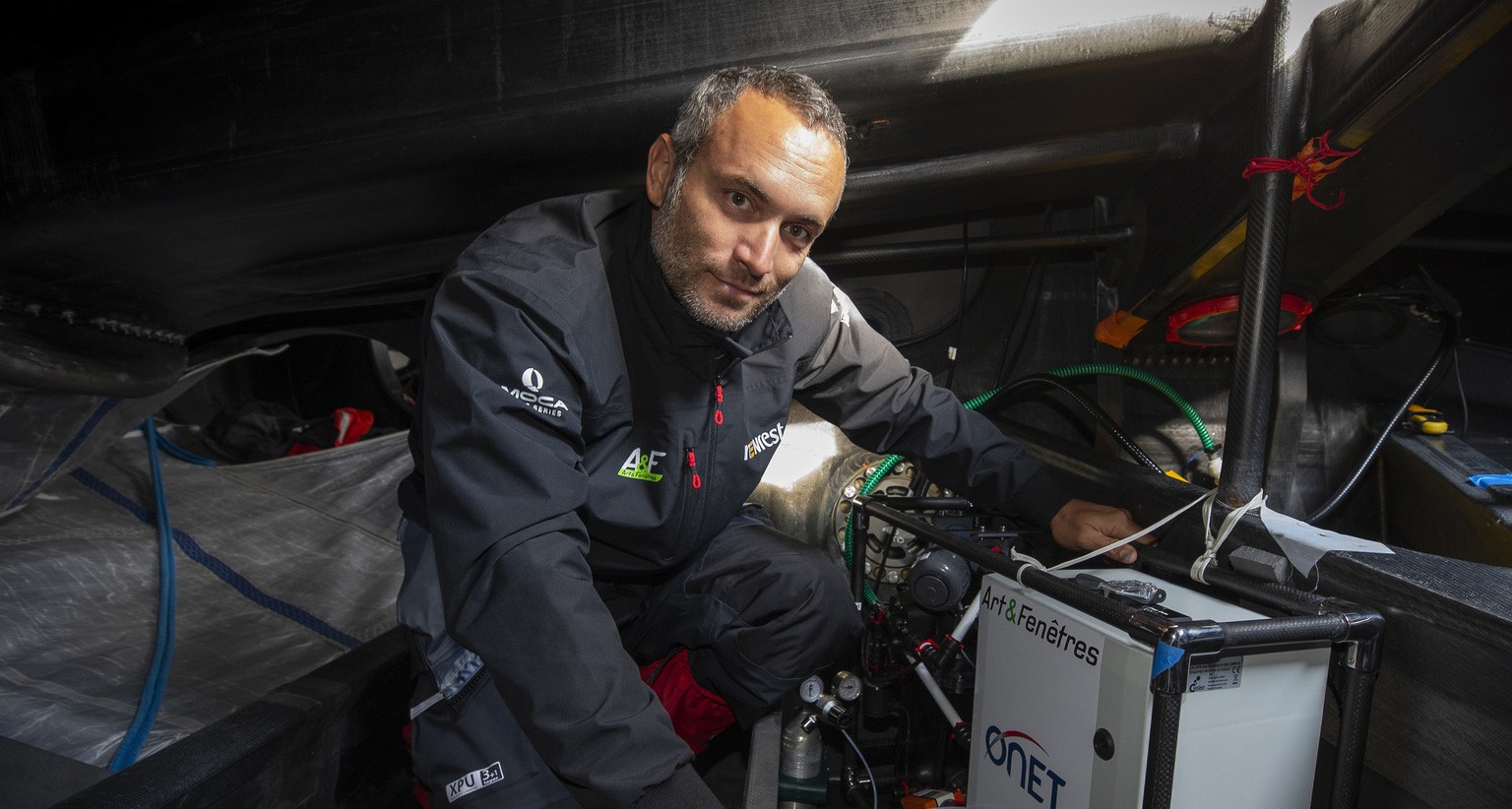 Learn more about Fabrice Amedeo
A sailing news reporter? Or a news reporting sailor? Fabrice Amedeo has never felt the need to choose between his two lifelong passions. But in recent years, the sea has called him away from his desk in the Figaro newsroom.
Beginning with the Route du Rhum-Destination Guadeloupe yacht race, Fabrice went on to participate in the Transat Jacques Vabre competition. After trading his Class40 sailboat for an Imoca yacht, he set out to tackle his personal Everest: the Vendée Globe race. His 11th place finish in the 2016-17 edition launched him into an elite circle of skippers. As his childhood dream became a reality, more and more fans began to follow his journey.
Always eager to improve, he joined forces with Eric Peron in 2019 aboard the Newrest–Art & Fenêtres yacht for his fourth Transat Jacques Vabre race.
Follow Fabrice Amedeo on Twitter
Follow Fabrice Amedeo on Instagram