Onet has been a family-owned business for more than 150 years. Our long-term success as a company is the direct result of a management structure that has been passed down from generation to generation.
There are many chapters in our family's story, but the setting hasn't changed. At Onet, we've always stayed true to our hometown of Marseille.
Our roots as a service company
The Onet story began in 1860, when Mr. Hippolyte Format started an independent cargo handling business in the port of Marseille, France.
The city had been experiencing an economic boom since 1848, when the first train pulled into Saint-Charles station.
Our cargo handling division developed in this context of rapid industrial growth. With the SNCF national rail company as one of our main clients, the Onet family business continued to expand into regions outside of Marseille.
It wasn't long before we added cleaning to our range of services, including maintenance for passenger cars.
Throughout our company's history, we've constantly evolved to meet the high standards of our clients.
Mrs. Emilie de Lombarès, a fifth-generation member of Onet's founding family, was appointed as president of the company's executive board in 2018.
1860
The business created by Mr. Hippolyte FORMAT
The arrival of the first train at Marseille's St Charles station dates back to 1848.
At this time, Marseille is experiencing one of its most important periods of economic prosperity, due, in particular to the trade of exotic products.
The hills are scattered with grist mills. Semolina and flour milling activities are developing rapidly.
Marseille is increasingly turning towards importation and exportation and goods are transported in sacks requiring handling services.
This is the very first known activity of the business created by Mr. Hippolyte FORMAT in 1860, which would also rapidly begin to propose cleaning services in the grist mills. Years later this company would become the Onet Group.
1924
A new rise
Mr. Hippolyte REINIER, Mr. Hippolyte FORMAT's grandson takes over the company leading to its remarkable expansion.
Faced with rapid industrial development and strengthened by demand from the National Railway Company, the company pursues its expansion beyond the city, setting up in the Savoie, the Languedoc-Roussillon, in Lyon and in Nice.
Mechanization continues with the arrival of the first crane in 1934 and the fork-lift and power lift trucks in 1944. Cleaning has now become the company's main activity. 
1959
Creation of Onet SA « Office Nouveau du Nettoyage » (New Office of Cleaning)
1968
The first offices in a foreign country are set up in Switzerland.
Since then, Onet Suisse SA has been able to establish itself in the Swiss economic and social landscape by developing a relationship of trust with the companies and administrations with which it collaborates. Quadruple certified ISO 9001, ISO 14001, 45001 and EcoEntreprise Excellence (26000), the subsidiary is a recognized player in the cleaning and associated services sector. Its network of branches in French-speaking Switzerland as well as the partnership established with HIS (House Industry Service) in Zurich, allow Onet Suisse SA to maintain a close relationship with its clients throughout Switzerland.
1973
Creation of "Formation Services"
At the instigation of Mr. Louis REINIER (Hippolyte REINIER's son), the consultancy, training engineering and professional insertion organization is created. It is named "Formation Services".
Today, this organization is the in-house training structure for Onet.
It manages more than 8 800 trainees and represents more than 220 000 hours of training per year.
1977
A new Luxembourg subsidiary
Onet Luxembourg is the Luxembourg subsidiary of the Onet Group. Since its creation in Luxembourg, it has offered a wide range of services to companies, from cleaning to logistics and waste management. The company has thus become one of the major players in its sector of activity in Luxembourg.
1986
Reorganization of Onet S.A.
A pyramid structure concentrated at the top of Onet S.A. is set up.
 This restructuration enables Onet's share capital to be floated on the Paris Stock Exchange (the « Second Marché » at the time) in June 1987.
A little over 10 % of the capital is opened up to the public.
The REINIER family, nevertheless, retains more than 87 % of Onet S.A.'s capital. 
1991
Reallocation of Group companies
The companies in the Group are divided up into Branches, defined according to their key professions.
An Economic Interest Group, ASSISTANCE SERVICES (created in 1977) made up of the divisions of Onet, brings together centralized general services for all the companies, notably: central management control, I.T., accounting, communication, insurance, real estate management, social documentation, etc …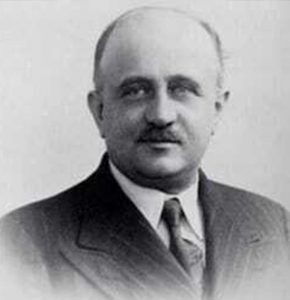 Hippolyte REINIER
Hippolyte Reinier was the great-grandson of our founder, Alexandre Hippolyte Format. He eventually took the reins of the company, changing its name to MAISON FORMAT H. REINIER. After finishing primary school at the age of 13, Hippolyte began to work while taking night courses at the city's business university. He was mobilized in the war effort in 1913.
When he returned to Marseille, his first task was to modernize the family company by using mechanical devices known locally as "ants". Such specialized equipment allowed his handlers to transport bags with greater efficiency.
Hippolyte knew that times were changing, and he decided to shift his focus from the local market and expand into regions beyond the city limits.
The industry was growing, and he'd already formed a lasting partnership with the SNCF national rail company. He began to set up operations in Savoie, Lyon and Nice, with a workforce of more than 400 handlers to load and unload freight cars at each of the cities' stations.
Company processes continued to rely on mechanical equipment. Onet acquired its first crane in 1934, and its first forklifts in 1944.
Meanwhile, cleaning services had become the company's main business activity.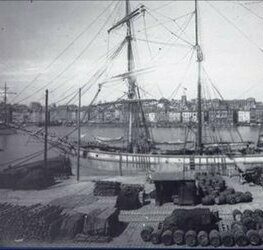 Alexandre MARIUS and his son Hippolyte FORMAT
In 1848, the first train pulled into Marseille's Saint-Charles station. This ushered in a new era of economic prosperity for the city, resulting from the lucrative trade of exotic goods.
Windmills began to pop up along the hills of Marseille to meet a growing need for flour and semolina production.
The Mediterranean port city turned increasingly to an import-export economy. Commercial goods were packed in bags, which needed to be transported between various areas of the loading docks.
The Maison Format company was established by Alexandre Marius Format to provide handling services to clients in the port of Marseille.
His son, Joseph Hippolyte Format, was born in 1836. He played an active role in the growth of the family business.
1995
Onet enters the Iberian market.
The adventure in Spain begins with one of our French clients (a car manufacturer) who entrusts us with the industrial cleaning of their Valladolid plant.
1996
Acquisition of TELEM SA
Onet acquires the company TELEM, one of the flagships of electronic security in France.
1997
Onet expanded its services
Each branch proposes a wider range of services.
Cleaning: ultra cleaning, cleaning operations in industrial processes, logistics and handling, airport assistance, transport cleaning services (rail, airport, bus, underground, tramway), event management cleaning and maintenance.
Extreme environment services and technologies (nuclear and industrial),
Surveillance, electronic security and surveillance,
Temporary work, training and recruitment agencies.
1999
Creation of E.G.E.I. EUROLIANCE
Onet creates, in conjunction with the English Group O.C.S. and the German Group GEGENBAUER, the E.E.I.G. EUROLIANCE, which will become Euroliance Ltd in 2007, so as to offer its services across the whole continent.
Acquisition of Comex Nucléaire
The Group also takes over Comex Nucléaire which develops innovative engineering solutions and complex industrial interventions. 
2000
Acquisition of SAFEN
Onet takes over the SAFEN RAILWAY COMPANY, whose core business is cleaning.
Partenariats

The first years of the 21st century are also partnership years. The Extreme Environment Technologies Division establishes strong relationships with key players in the nuclear and industrial sectors:
MITSUBISHI HEAVY INDUSTRIES (Japan), 
STUDSVIK (Sweden), 
AECL (Canada), 
ENS (United-States), 
NUKEM (Germany) 
EIFFAGE (France).
As for the Temporary Staff and Recruitment Division, it establishes a partnership with the CHINA agency in order to facilitate recruitment for Chinese companies.
Acquisition of Pronature in Spain
With the first acquisition, in 2000, of Pronature, Onet becomes a national player with agencies throughout Spain.
2001
Onet takes a strategic change of direction.
All the agencies of the Cleaning-Multi-Services Division complement their cleaning services with a range of multi-services: local services and heritage maintenance.
The Cleaning-Multi-Services Division thus reinforces its position as the leader in cleaning and related services in France. 
2005
La compra de la empresa Axxis Conseil
2007
Creation of "Axxis à Domicile"
Onet launches into the home services market by taking over FRANCE PRESENCE. Today this activity is developed under the name of AXXIS A DOMICILE.
Change in shareholding of Onet
On 23rd October, 2007, the REINIER family takes de jure control of the family Onet Group by buying up the shares of the FABRE HOLDING.
This step marks the entrance of the SOCIETE FONCIERE FINANCIERE ET DE PARTICIPATIONS – FFP (The Real Estate, Financial and Investment Company) into the capital and into the management of the company through the Société du Management D'Onet (SDMO – The Management Company of Onet).
Following these operations, the share capital of the REINIER HOLDING is now owned by:
The REINIER family: 74.51 %,
The SOCIETE FONCIERE, FINANCIERE ET DE PARTICIPATIONS – FFP: 23.05 %,
The Management Company of Onet (SDMO): 2.44 %.
The REINIER HOLDING is chaired by Elisabeth COQUET-REINIER.
In October 2007, our four activity divisions changed name.
Onet Propreté-Multiservices
Onet Technologies
Onet Sécurité
Axxis Ressources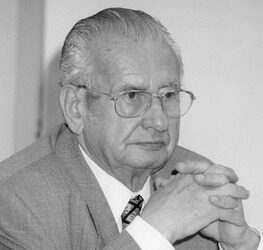 Louis REINIER
Hippolyte's son, Louis, studied law at the university of Aix en Provence. Throughout his education, he would spend his holidays working as a freight handler for the family business.
With a wealth of experience already under his belt, he officially joined the company in 1949. By all accounts, Louis was deeply inspired by a childhood memory of his father changing out of his business suit and putting on a gray work shirt.
The company's cleaning division continued to grow in 1950.
It was registered under the name ONET, "the Ministry of Clean", with the official slogan: Modern Techniques for Cleaning.
Louis Reinier played a major role in the evolution of the family business, transforming a local company from Marseille into a multinational group with over 70,000 employees in eight countries worldwide.
He led Onet in a new strategic direction, developing the expertise of a team of employees specialized in traditional trades.
Louis Reinier was also responsible for the company's diversification and expansion into new services and engineering divisions, including those related to the nuclear sector from the 1970s onward.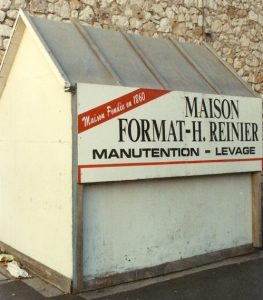 The "Maison Format" sign still hangs on the wall of the small wooden house in front of Arenc train station in Marseille. It serves as a reminder of the company's humble beginnings.
The year is 1860. Two or three employees direct traffic as wagons enter the bustling port, where a brand new railroad has spurred the development of many local companies.
2008
Continued international expansion of Onet Technologies
Continued international expansion of Onet Technologies through the creation of subsidiaries ONET TECHNOLOGIES ROMANIA, ONET TECHNOLOGIES BULGARIA and acquisition of GRAVATOM ENGINEERING SERVICES in United Kingdom.
2009
New group headquarters A new head office is established, bringing together the company's four business divisions and its functional units under the umbrella of GIE ASSISTANCE SERVICES. The company headquarters are equipped with a technical system designed to reduce water and energy consumption. Facilities include a lunchroom with meal service, a HEQ daycare center and an employee gym. Onet launches a business project called O3, Dare to Dream Together.3, Osons Onet Ensemble The O3 project aims to re-evaluate the group's commitment to Openness, Respect and Innovation, with a strong emphasis on sustainable development. Creation of the group's international management board
2010
Creation of TELEM MAROC
The Group boosted its international expansion with the creation of Telem Maroc (a subsidiary of Onet Security) that provides Telem expertise in designing, installing and maintaining electronic security systems for banking networks, industries and administration throughout the kingdom.
New partner Euroliance
Euroliance Ltd saw the arrival of a new partner (Nominated Services Provider) Reiwag in cleaning services for Austria, the Czech Republic and the Slovak Republic.
2011
Acquisition of Bradtec 
Onet Technologies consolidated its presence within Great Britain thanks to the acquisition of Bradtec Decon Technologies Ltd, a company specialized in decontamination procedures and established a foothold in the Indian civil nuclear market by creating a joint venture company with PCI Ltd in New Delhi and by working in the field of conventional energy.
2013
Onet acquires Sinteo
Onet is strengthening its technical skills and expertise through the acquisition of Sinteo, an engineering and consulting company specializing in the environmental performance of buildings.
2015
Onet acquires EPM Inc and expands its operations into the US market
Through its newly created subsidiary Onet North America (ONA), the group continues to grow internationally with the acquisition of EPM nuclear engineering, a company from Boston, Massachusetts.
EPM is a leader in risk prevention, technical audits and fire safety inspection for the nuclear sector.
With more than 90 employees, EPM provides services for all North American nuclear facilities as well as certain plants in Asia.
2017
Onet: The Reinier holding company welcomes a new investor, EMZ partners
La Holding Reinier annonce l'arrivée d'EMZ au sein de son capital. Un choix qui offre à Onet, filiale de la Holding Reinier, une stabilité financière et projette le groupe dans une nouvelle étape de son développement.
Onet continues to expand its operations in Brazil.
Onet continues to expand its operations in Brazil with the acquisition of Centro Serviços.
2018
Émilie De Lombarès is appointed as president of the Onet executive board

The daughter of Mrs. Elisabeth Coquet-Reinier and granddaughter of Mr. Louis Reinier, President Emilie de Lombarès has been managing operations for our Spanish subsidiary, Onet Iberia, since 2016.
2020
25 years of the Spanish subsidiary of Onet
Created in 1995, the Spanish subsidiary, Onet Iberia, with its 8,000 employees, is celebrating its 25th anniversary in 2020. With its 3 divisions (Edificios, Ciudades, Personas), Onet Iberia is an example of integration, service quality and diversification.
Creation of Onet Security in Luxembourg
In order to offer its customers and prospects security, safety and reception services, the Onet Group is strengthening the international development of its security activities by creating a human security subsidiary in the Grand Duchy.
Onet is developing its brand signature, which carries its corporate impact project, the benchmark for its service businesses.
"Stronger together", the new brand signature embodies the Group's committed vision. It marks our difference. For equal service, commitment, the choice to focus on human values makes all the difference…
2022
The Coquet-Reinier family once again becomes the sole shareholder of the Onet Group's holding company.