After 33 Days of Racing, Fabrice Amedeo Drops Out
After a month of racing and having closed part of the gap with the other yachts, Fabrice Amedeo drops out of the Vendée Globe 2020 following a failure of his on-board computer.
Week 4 / #4SEMAINEDUVDG
A SERIES OF PROBLEMS
As a reminder, our mariner sailed from Sables d'Olonne on Sunday, November 8, and had to turn around after 2 days of racing following an issue with a hook, a piece of hardware for the headsail. His technical team managed to solve the problem in record time with the help of competitors' teams, enabling him to sail again to the cheering of Sables residents.
After a few miles, the skipper faced a spot of very bad weather that put his vessel to the test and took one of his two on-board computers away with it.
While Fabrice Amedeo thought that he'd had enough bad luck and was struggling to catch up to the rest of the fleet, the weather doors that he had been waiting for and that were supposed to make all the difference started closing before him, one after another, making him fall further behind the mariners at the head of the race.
The picture became more somber once again on December 10 after 33 days of racing. In 21st position, our skipper announced in the Roaring Forties that his second on-board computer was no longer working, depriving him of weather information in heavy seas.
A DANGEROUS SITUATION AND DIFFICULT DECISION
The first on-board computer had been out of commission since the front off Cape Finisterre. Fabrice Amedeo had tried in vain to repair it and knew that he was continuing on his way with a sword of Damocles hanging over his head. Our mariner tried to undertake repairs with his technical team helping him remotely while taking shelter from the 40-knot gusting winds expected in the area.
A fighter down to the soles of his shoes and a passionate sailor, Fabrice Amedeo has to decide to retire and is heading for South Africa. "This is a difficult decision to make", he confides as he abandons a major race for the first time.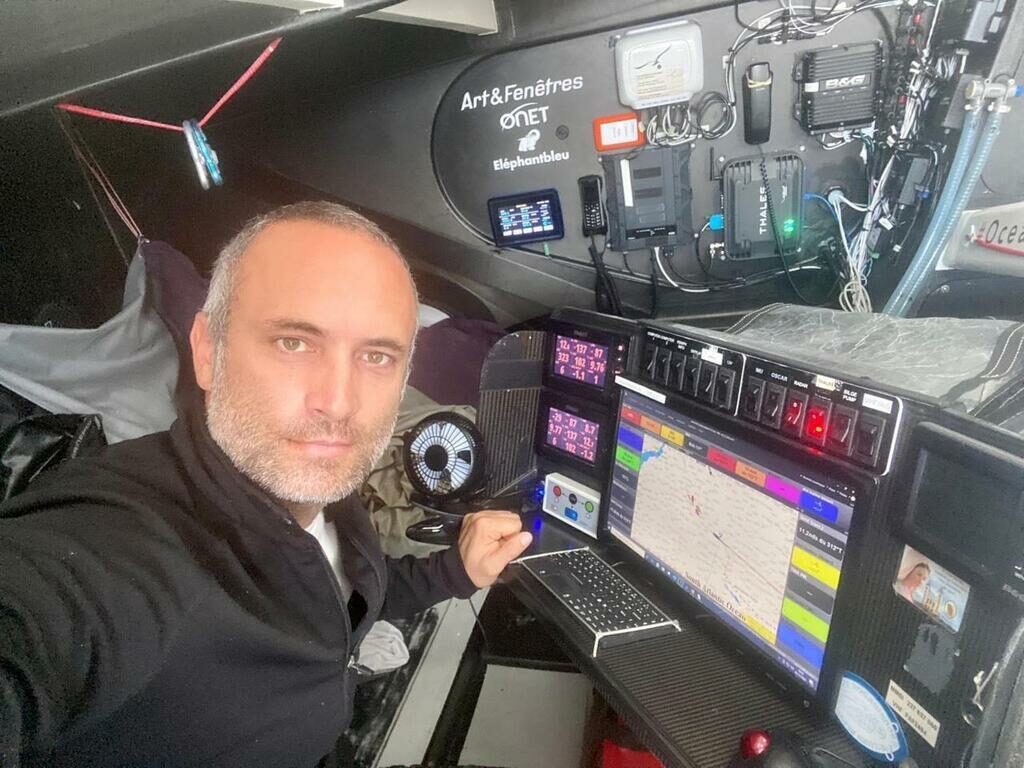 « [..] Our foil boats are fiends in a strong wind. I want to be able to sail based on a principle I have always held to: as a good sailor and having a feeling that I control the safety of my boat and myself. Therefore, I decided to terminate my Vendée Globe in Cape Town. This is a decision that was difficult to make, but that I am making. I am very sad but I know that I will bounce back. I thank my partners, and they are always in my thoughts. I dreamed of being able to offer them a finish in Sables d'Olonne as a little light at the end of the tunnel of 2020, which was a difficult year for everyone. I would also like to say a heartfelt thanks to my technical team who did an excellent job. The Vendée Globe tells life stories, and failure is part of life. I will learn from this failure and grow from it to become stronger and more resilient.
Following the arrival in Cape Town Sunday morning, his carbon-fiber friend is moored at the foot of Table Mountain. This stop at the dock in reality puts a stop to the Vendée Globe, and that is difficult to digest. Our skipper opens up and explains that while he was at sea he had been living in a protective cocoon of this parallel world of the high seas. Going forward, on terra firma, he is focusing on the things to do to make the IMOCA battle-ready again.
"The ocean was rough with me and did not want me this year. But my love and my faith are intact. We will be back in 2024."
All the Onet employees salute Fabrice Amedeo's courage and determination in this Vendée Globe. The mariner managed to assess the risks and to listen to himself, putting his competitive nature aside. We wish him all the best and a strong comeback.