Committed to the environment and the future
On this World Environment Day, Onet salutes the daily commitment of its 71,000 employees who contribute to creating safer, healthier and more reliable environments in the key ecosystems of our societies: workspaces, production, energy, transportation, healthcare, leisure, education, agri-food…
This 2021 edition is dedicated to the restoration of ecosystems through three key principles: Reimagine, Recreate, Restore.
Aware of its environmental responsibility, Onet is deploying a responsible development policy based on collective intelligence, experience in the field and a circular economy approach to reduce its impact.
Responsible cleaning solutions, sustainable mobility, equipment recycling, waste reduction, support for the sailor Fabrice Amedeo for the preservation of the oceans… are all examples of our commitment to help preserve our planet.
Reimagine, Recreate, Restore: fundamental principles for Onet
Ozone depletion, chemicals, desertification and global warming…
Global greenhouse gas emissions have increased for three consecutive years and the planet is on the verge of potentially catastrophic climate change.
World Environment Day is an opportunity to remind people that it is time to act.
For Onet, the Group's contribution (at its own level) to the global challenges of sustainable development is reflected in its willingness to take responsibility for the impacts of its decisions and activities on society and the environment and to report on them, on a voluntary basis.
After analyzing the major impacts of the Group's activities, Onet has made nine commitments (social, environmental and societal in its corporate responsibility policy "The future begins today"), two of which aim to contribute to protecting the planet through the production of services and goods in a circular economy dynamic and respect for biodiversity, the development of activities that contribute to the use of low-carbon energy.
In our 2020-2023 roadmap, we are giving ourselves the means to achieve our CSR ambitions by setting concrete indicators and targets to be reached in order to also contribute to these important issues.
Reimagine: the example of sustainable mobility
In 2019, we have initiated a "Sustainable Mobility" project, co-piloted by the Purchasing Department and the Responsible Development Department, to address:
the challenges of climate change,
the characteristics of our activities that require us to travel to our customers on a daily basis
to anticipate regulatory and societal changes.
Thus, 3 major actions will enable us to start our energy transition strategy in 2021: 
the evolution of our fleet of Onet vehicles (LCV and PC) by reducing the volume of diesel vehicles and accelerating the integration of "clean" vehicles (i.e. less than 60g of CO2),
the deployment of a new car policy based on usage criteria,
adapting our work and travel patterns (commuting/missions).
We have also just signed a partnership agreement with BlaBlaCar Daily, the leader in carpooling, to encourage Onet employees (carpoolers) to adopt this type of practice.
It allows us to halve the environmental impact of home-work trips, which are estimated to cover an average of 14 km per day in France.

Recreate: the case of our Biogistic solution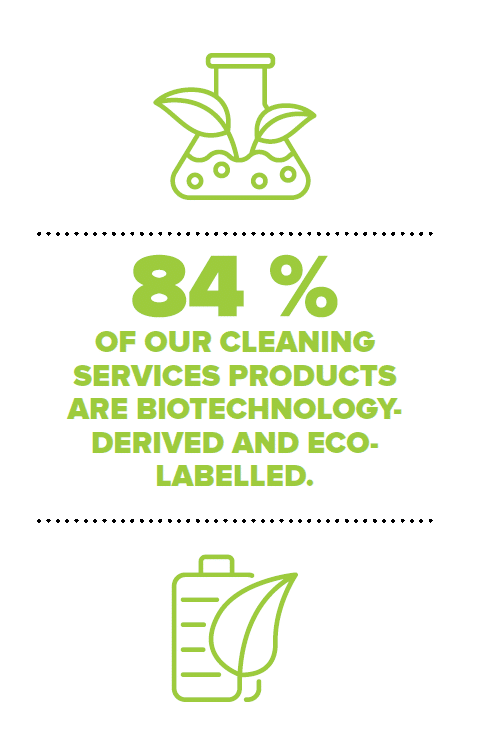 We know how to adapt while respecting our environmental and health commitments.
Thanks to the teams of our trading subsidiary Prodim, many eco-responsible references are available to Onet teams, to offer our customers a wide choice of products with minimal impact on the environment and to ensure a good quality of life at work for our teams (prevention of RSI, etc.) in the following ranges
floor and surface maintenance,
maintenance of sanitary facilities,
linen care,
toilet paper,
soaps,
cleaning equipment,
biodegradable bags,
cleaning carts,
scrubber-drier.
We have validated, in tertiary environments, protocols aiming at reducing or even eliminating conventional chemical disinfectants to limit the environmental impact.

Our Biogistic solution
Since 2018, our Biogistic solution combines the use of ecolabelled products and biotechnology products with integrated logistics from ordering to use of the products on site, in a circular economy approach.
A more efficient and sustainable cleaning service
Products combining unique active ingredients: bacteria, ferment extracts and biodegradable solubilizing agents
An active film up to 8 hours after application
A process that does not mask bad odors: it eliminates them
Products that are safe for your occupants and our agents
Products without VOC (Volatile Organic Compound), without pictograms and without irritating substances
Controlled dilution of products thanks to our patented "Dilumob" dilution unit
Quick to learn and use
Reduction of our ecological footprint
Ultra-concentrated products for a reduction in transport and CO2 emissions
Biodegradability twice as fast as the Ecolabel standard
Reused containers for less plastic waste
Restore: recycling of electronic equipment and second life for our computer and telephone equipment
Since 2015, in correlation with our circular economy approach, we have been prioritizing, if possible, the reuse and extension of the life span of resources before thinking about recycling, which takes place in a second stage.
For more than two years, we have been partnering with the adapted company OLINN to extend the life of the Group's IT equipment and give it a second life.

Science at the service of the oceans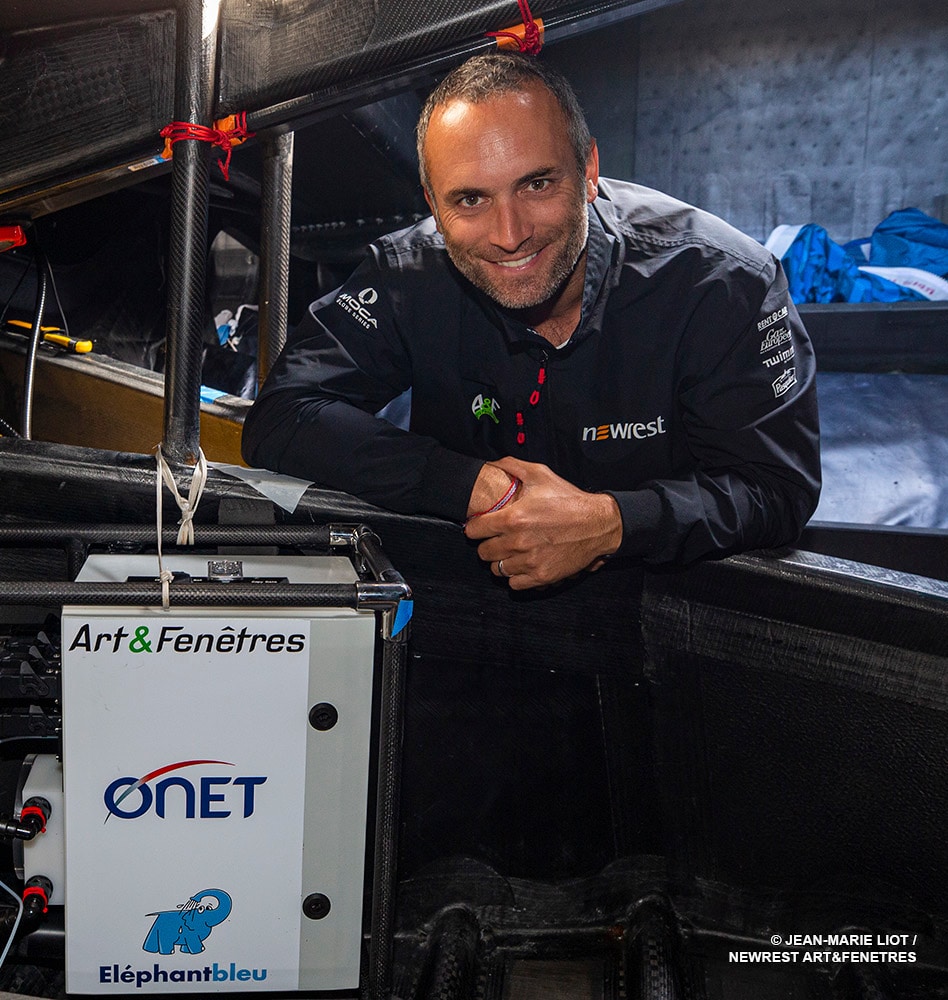 Onet is committed to Fabrice Amedeo. The sailor is putting his boat at the service of the international scientific community to preserve the oceans and the planet.
In particular, Onet is financing the scientific project that consists of installing oceanographic sensors on board his boat. These sensors collect data at sea to help scientists better understand the impact and consequences of global warming and greenhouse gases on the oceans.
These data of an unprecedented scale – because they are collected at sea, in places where scientific ships pass once every 10 years – are made available to scientific institutes such as Ifremer. They will then be able to use them in their research on climate.
These scientific analyses will be a significant help in modeling climate change and studying the level of pollution in the oceans, and thus preserve biodiversity and fight against the decline of our ecosystem.
Learn more about the partnership with Fabrice Amedeo.
To go further, environmental engineering for real estate with our subsidiary Sinteo
Since 2013, the Onet Group has also relied on its subsidiary, Sinteo, to meet the environmental challenges that are just as important in the real estate sector.
This environmental and technical consulting and engineering company for real estate, specializing in the environmental and energy performance of buildings, works daily to promote sustainable building and urban renewal.
Sinteo works for simplified and resilient buildings; healthier and more comfortable, welcoming to nature, intelligent, sober, carbon and energy neutral, integrated in a circular economy of materials, energy and use.

About World Environment Day
World Environment Day, launched in 1974 by the United Nations and celebrated on June 5, is now an annual event to raise awareness and take action on pressing issues or growing concerns about the environment.
Each year, national and international environmental policies are highlighted and the participation of millions of people help to change consumption habits.
UN Environment Program: https://www.unep.org