Daytime Cleaning
What are the advantages for public transport passengers?
Working during the day has many advantages both for our operators and for our customers, as well as for the end users. A specific example of public transportation in Greater Avignon which is using this approach.   
Daytime Work: Win-Win for Everyone
For many years now, the cleaning industry, along with cleaning companies, clients, and institutional players, has been committed to promoting work during the day and in non-stop mode.
According to the Federation of Cleaning Companies and Associated Services, which monitors the development of the industry together with the National Institute of Statistics and Economic Studies (INSEE):
95% of customers that have changed over to working non-stop/during the day are satisfied;
95% of employers have noted that operators feel they are enjoying better recognition in their jobs when they are working non-stop/during the day;
92% of companies that have changed over to working non-stop/during the day are satisfied;
75% of French people look favorably on someone cleaning their workplace during the day.
Daytime and/or non-stop work has long been a matter of importance to Onet, as a responsible employer. This "Win-Win-Win" initiative is a real improvement for the employee, the beneficiary (client, such as a user) and the employer.
In fact, these days, cleaning services providers would like to provide their services during the day.  However, these services are still mostly provided on a staggered schedule, i. e. in the late afternoon or the very early morning. Thus, organizing work in the daytime and in non-stop mode is a solution that is of interest all around.
Multiple Benefits
We have been able to identify multiple benefits:
better cleaning quality thanks to service operators that are recognized and, therefore, more motivated, engaged, and diligent;
optimization of tasks based around the actual use of the premises;
improved responsiveness, security, and confidentiality;
energy savings.
Therefore, Onet would like to put in place an organization that would enable it to provide a part of its services during our customers' business hours while maintaining the necessary discretion.
Our initiative is thus based on three key points:
connecting the three stakeholders: the client, the employee, and Onet, to give proper consideration to each party's constraints;
running a diagnostic and performing an organizational impact study;
proceeding with the activity when all the conditions are right.
l
The medical crisis has highlighted the critical nature of cleaning industry players. For around a year now, they have been essential in maintaining an optimum level of sanitation, and everyone recognizes their role.
To this end, 84% of those surveyed recognize that cleaning operators and companies have helped battle the spread of the virus effectively (research by BVA Institute for the Federation of Cleaning Companies and Associated Services (FEP), September 2020).
Sanitation and cleanliness in the workplace and in public locations have become a real reassurance, more than ever before.
Daytime work makes ever more sense. The presence of our service operators contributes to increase the sense of safety, whatever industry they are working in.
Onet prefers when work is performed in contact with the users, such as on trains, in offices, or on buses and trams.
Example of Daytime Services in Avignon
TRCA manages public transportation in Greater Avignon. Since November 2020, it has been using a daytime cleaning service to disinfect all its buses' and trams' touch surfaces (handles, bars, ticket validators, seats, etc.).
"Online" Tram and Bus Disinfection
At the beginning of November, the transit authority expressed a desire to step up the daytime disinfection of its buses and trams.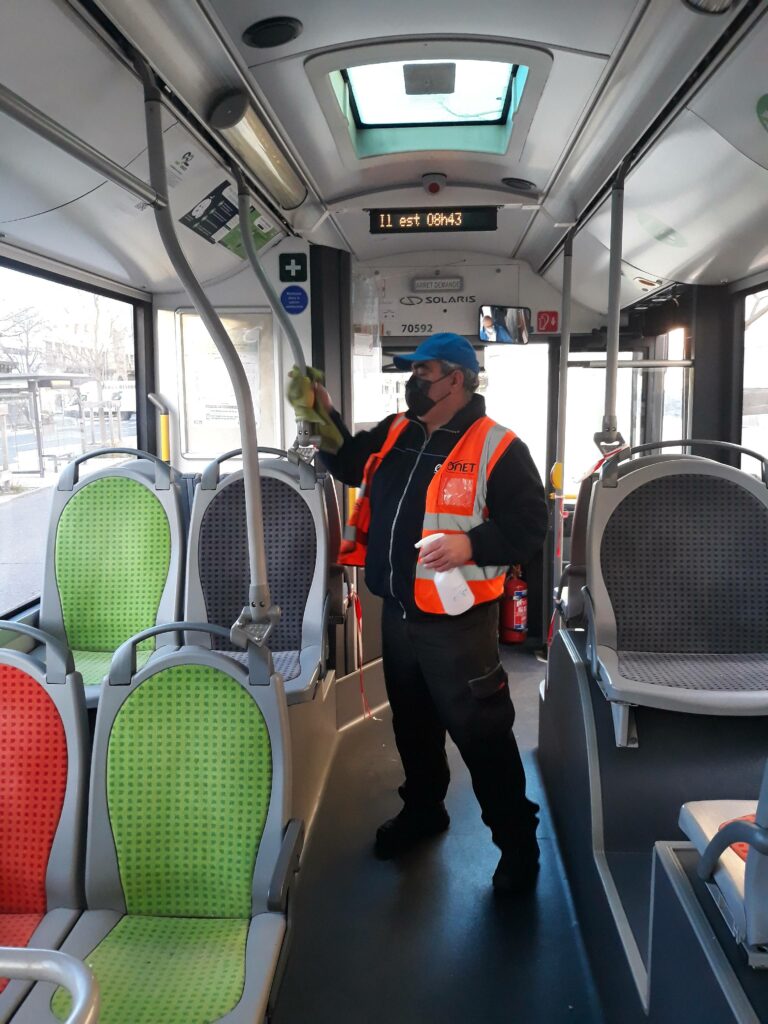 Monday through Friday, our operators work between 8 and 9am to clean touch surfaces on buses at end-of-line stops.
Afterwards, between 9 and 10am these same agents disinfect touch surfaces on trams at their end-of-line stops.
Other operators work in the afternoon (3:30 to 5:30pm on buses and 5:30 to 6:30pm on trams).
On weekends, given the smaller crowds (fewer people going to work), the scope of end-of-line service is adjusted and somewhat reduced. As for the in-depot disinfection service, it remains the same. 
An operator, Mohamed, says:
"As an operator, I am aware that what I do every day is reassuring for both the passengers and the drivers. I use materials suitable for this environment. I like working during the day, and this additional work (Mohamed has a part-time contract) helps me play an even greater role in assuring everyone's well-being." 
Complete Vehicle Disinfection "While Stopped" 
While stopped, at least 125 buses and 9 tram carriages are deep-cleaned and disinfected by 8 of our operators.
In fact, our operators spray-clean these vehicles in their respective depots in Avignon every evening from 9pm to midnight.
Spray (or mist) disinfection using an atomizer involves spraying a cloud of disinfectant.  All the surfaces that come into contact with air are thus treated following this activity. A manual disinfection of all the touch surfaces in the driver's cubicle and on the buses and trams themselves (handrails, handles, armrests, etc.) is performed in addition to the spray treatment.
As a result, the buses and trams are ready to welcome passengers and drivers in complete safety the following day.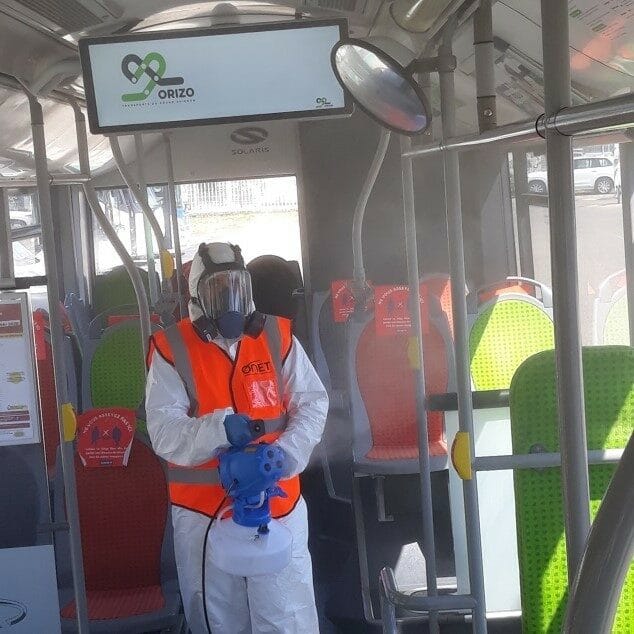 Our team leader Hassan, explains:
"Having dressed in a full set of protective gear, I use an atomizer spraying disinfectant through the air for a complete disinfection. This atomization process turns out to be fast and effective.
I complete my task by disinfecting touch surfaces and drivers' cubicles using a microfiber wipe and a disinfectant. I start in the evening so that the disinfection can happen at night (no one can go inside the vehicles for 3 hours after they are sprayed) and so that the following morning the vehicles can be put in service. I get some satisfaction from seeing the buses and the trams run during the day and to be able to tell myself that I've contributed to their use."