Inclusion at the Core of Onet's CSR Approach: Group Initiative and Strategy
With 7% of the workforce in 2019 being people with disabilities, we are putting in the effort to align our values with the reality on the ground. Committed to developing a culture that is conducive both to employing and professionally developing disabled persons, we are also rolling out a strategy to promote everyone's initiatives to promote inclusion.


The meeting between Rémi Glacis and his mentor Maxime Goffart is a good case in point. First individual, then collective… repeating a story that just needs to be replicated
Story of Rémi, Disabled Employee at Onet Logistique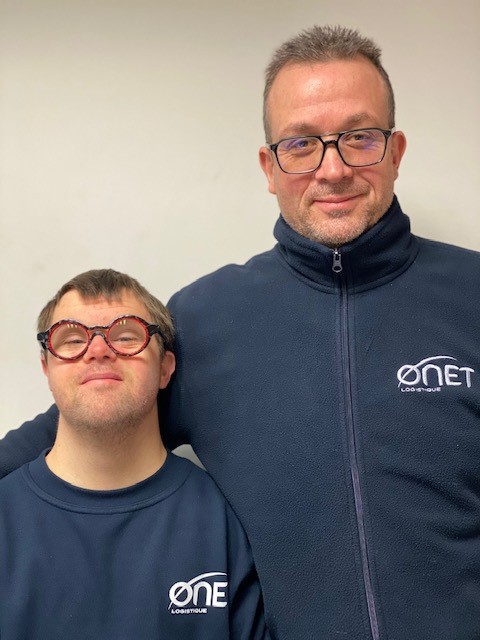 Rémi Glacis is 26. He has Down's Syndrome, which is the primary diagnosed cause of mental disability of a genetic nature (it is one of the most common genetic disorders with about 450 births a year in France).
Since 2018,  Rémi has been working at a logistics depot of a tire manufacturer near Valenciennes.
His hiring and the organization of his workplace, both from the standpoint of the tasks he performs and his working hours, are the result of close collaboration between Onet Logistique and AGEFIPH. He is employed on a permanant contract, and it is worthwhile spending some time to learn the highlights of his story.
How Rémi Glacis Got Hired, or How It All Began
For many years, Site Operations Manager Maxime Goffart had a desire to promote diversity within his teams at the logistics depot where he was working. Understanding others by communicating with them on a daily basis is a way to challenge your ingrained notions and to become accepting of differences. This desire aside, chance also sometimes has a part to play.
Maxime Goffart learned Rémi's "story" indirectly. The story of a father who, upon retiring, sold his business where his son Rémi had been working. Except that several months after the sale, Rémi was fired. Deeply affected by this situation and determined to have Rémi join his teams, Maxime approached his family and AGEFIPH. The goal was to see whether his abilities and profile could match the tasks that he might be asked to perform.
The hiring project took shape, and Maxime had the full support of his management, especially his director Benoît Galy. Thus, it is with this educational will and a desire to work together that Rémi was hired at Onet Logistique in Rouvignies.
"Yes, there are differences. We are all different! And we all have a right to work and to be respected by each other," says Maxime Goffart, now Rémi's corporate guardian and mentor.
Evolving Tasks for Ever Greater Fulfilment
"Rémi's primary task is to identify files in advance and to pull them. Over time, he has also been asked to sort pallets to break up his routine a little and to help him discover new things. His dedication and seriousness mean his assignments keep evolving," confides Maxime. His role also changes based on the situation: "Right now, Rémi also takes care of preparing COVID protective masks for all the site's employees," he adds.
Always asking for new things to do, once a month he works with Amandine Velu from HR stuffing envelopes with pay slips and other information. He also works with personal protective equipment (PPE), sorting maintenance gloves for example. "Things are added little by little. Same as for everyone else, his tasks must change based on his profile and his skills and capacity for adaptation. This is how we have been able to go further in assigning him tasks," explains Maxime, adding that "like any other employee, he learns processes gradually, even if it takes a little longer sometimes."
A Rich and Happy Human Adventure
What Maxime takes away from this hiring is his co-workers' generosity, first and foremost. Many like working with Rémi as well as spending their coffee breaks with him. A pleasure shared by Rémi. "He likes drinking coffee with his co-workers and eating his lunch with them." Some have even formed strong ties with him, "a real friendship has sprung up with David Bacouet, an administrative employee who shares his office. He took him under his wing in a way… When I'm not there, he is his other point of reference."
Given that this is a real investment in the company on the part of the mentor, "It is true that this requires an investment in terms of personnel because he requires an escort and attention paid to his environment. His tasks must also be completely adapted. We do this with enthusiasm and pleasure," emphasizes Maxime. He would like his example to be followed by other sites launching themselves into this human adventure.
"I hope to create a desire in my co-workers at other sites to promote diversity and to trust! Get involved and you will be much happier with the outcome because this is what makes life richer and makes a difference. This impacts the overall social climate and it is also very rewarding from the personal point of view," concludes Maxime.
From Rémi's standpoint, the outcome of these two years has also been very positive: "I really like working. I really like my office," he says. Not forgetting to add with enthusiasm, "I really like coffee breaks and the chocolates, too!" An observation on everyday life full of simplicity and good humor that everybody can appreciate.
Onet's Global Diversity Initiative
The Group's Disability Policy: Our Values in the Service of Our Strategy
We are pursuing our policy for the disabled adopted in 2016, aiming for better integration of people with disabilities and action to support their continued employment in order to combat incapacity.
"We must now adopt a policy of inclusion," states Group Human Resources Director Laurence Lelouvier.
We undertake to develop a culture that is conducive both to employing and professionally developing disabled persons.
In the coming months, the activities having to do with disability will take on a more practical dimension with a network of local disability representatives to support our teams in receiving recognition, developing skills and employability, and keeping disabled persons employed.
From Integration to Inclusion
In order to make diversity the norm and to go beyond the notion of integration to that of inclusion, we began coordinating our policies regarding the various diversity targets in 2019: men, women, young people, seniors, job seekers, people from the cities' priority neighborhoods, people with disabilities, discrimination, etc. The objective remains the same: inclusion for a better quality of life at work. We have also done work to prepare to implement the law on the freedom to choose one's professional future and the component on supporting inclusive businesses.
Onet's Commitment During EDEW
After a number of years, the European Disability Employment Week (EDEW) has been integrated into the Group's HR strategy. Through this annual event, we are showcasing the entirety of our inclusive undertakings. This event is an occasion to review the fundamentals of disability. Specifically through fun and enjoyable activities (games, training events, tools) presented throughout the week to all our co-workers.
Find out more about this year's edition, EDEW 2020.
Signatory to the Diversity Charter
Since November 2006, Onet has been a signatory of the Diversity Charter, a commitment document that condemns discrimination in the field of employment and works for diversity. As stated in our code of ethics, our approach to diversity is based on respecting the principle of non-discrimination and ensuring that employees are treated fairly from the standpoint of discriminatory criteria, from the recruitment process all through their professional careers.
Job A Cœur
Onet supports the Job A Cœur association and inclusive employment platform. Our employment offers will now be available on this online platform that helps put job seekers in contact with inclusive recruiters and non-profit and institutional employment partners to promote job inclusion everywhere in France.
To find out more about our initiatives, review our Sustainable Development Report.