Launch of the European Sustainable Development Week: Onet in action for the present and the future.
This year, the European Sustainable Development Week (ESDW) will be held from September 18 to October 8.
It aims to raise awareness of the 17 Sustainable Development Goals (SDGs) of the United Nations Agenda 2030. It also encourages concrete mobilization at all levels, both individual and collective, by promoting, via its dedicated platform, initiatives in favor of sustainable development.
This event has become an annual event for Onet and its employees for many years, and it highlights the actions taken throughout the year.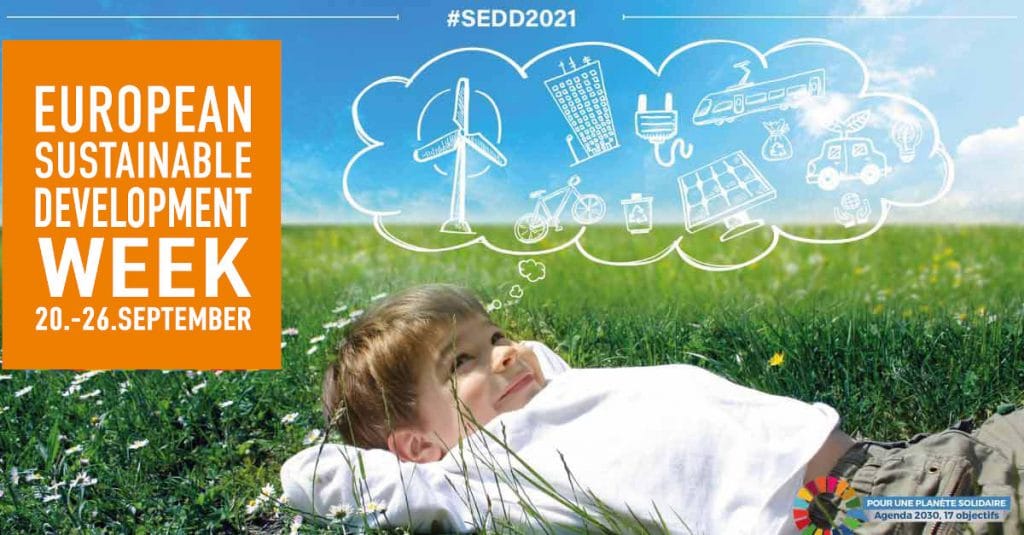 At Onet, sustainable development is a daily reality
LDuring this week, our objective is to promote to our employees all the actions we take on a daily basis, thus enabling us to become a company with impact.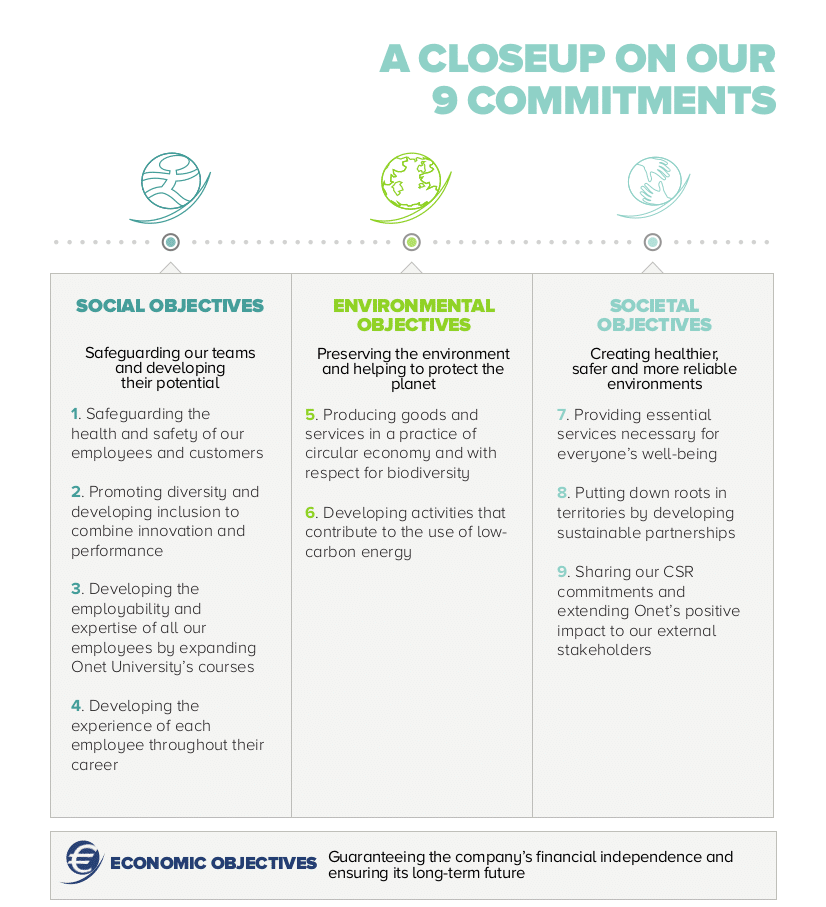 Making Onet a company that has a positive impact on society, both socially and environmentally, is the basis of the Group's corporate social responsibility policy, called "A present for the future", and is based on four founding pillars.
The vision of the family shareholders, who have been fully committed to sustainable development for many years.
Nine commitments that were identified after analysis of the major impacts of our activities
The 2020-2023 CSR roadmap, which specifies the main CSR measures and projects that contribute to our nine commitments. It details the concrete actions, associated performance indicators and targets to be achieved.
A dedicated organization to ensure effective implementation of this policy.
Focus on sustainable mobility
Faced with the challenges of climate change, our ambition is to implement an energy transition strategy for 2030.
A group committed to the planet and to people
We must act collectively to limit our impact on the planet. We have made strong commitments to protect our planet, which embody our vision of corporate responsibility in building a better, more sustainable future for everyone.
It is essential that we invest in people, our employees, customers, suppliers… It is important to act for everyone and to transmit our commitments to all our audiences.
We believe in accepting and valuing everyone, to create stronger companies. In order for diversity to become the norm and for us to go beyond the notion of integration to inclusion, we need to coordinate our policies towards the different audiences of diversity: men, women, young people, seniors, job seekers, people from priority neighborhoods, people with disabilities, etc.
Convinced that the strength of the collective enables us to accomplish great things, we want to engage, support and train our employees in our environmental and social responsibility dynamic.
#2020 Responsible Development Report
Each year, Onet publishes its Responsible Development Report, which illustrates our commitments to Corporate Social Responsibility (CSR) through concrete examples.
What is the ESDW 2021?
By taking part in this major sustainable development event, Onet is once again mobilizing on issues of transformation and resilience at all levels: local, national and European. The theme for 2021 is "Acting Everyday", in line with the Climate & Resilience Bill (drawn from the recommendations of the Citizens' Climate Convention). The SEDD is raising awareness of the UN 2030 Agenda across Europe. It also encourages stakeholders in all territories to organize actions related to the Sustainable Development Goals (SDGs).