Microplastics: 14 Million Tons at the Bottom of the Sea Our Commitments at Onet
Hiding in the rivers, in soil, and in the oceans, microplastics accumulate over time.  End result: 14,000,000 tons of microplastics cover the bottom of the sea. Well, these polymer particles, ingested by many living things end, up on our plates. Where do they come from? 
From our consumer goods, packaging, detergents, cosmetic products, paints, etc. 
In Europe, microplastics are the subject of studies and strict regulations. Although their health and environmental impacts are not as yet well known, EU Member States are pushing industry to reduce its production of microplastics. At Onet, the work has already begun.
A Global Plague
They are between several hundred nanometers and 5 millimeters in size, or 70 times thinner than a hair. Microplastics are so miniscule that they have become a veritable plague for the planet.
German research by the Commonwealth Scientific and Industrial Research Organisation, CSIRO, the seabed is blanketed with about 14,000,000 tons of microplastics. For this first global assessment, CISRO used an underwater robot that collected specimens  off the southern coast of Australia from depths of up to 3,000 m.
The research conclusions published in the Frontiers in Marine Science journal demonstrate that in areas where there is more floating debris, there are more microplastics on the sea floor.
Today, however, microplastics are everywhere, including the polar areas.
German research by the Alfred Wegener Institute for Polar and Marine Research has proven for the first time that there are microplastics in the Arctic ice pack. One of the samples taken contained 12,000 plastic microparticles per liter of frozen water: A concentration hundreds of times higher than what has been measured in sea water.
The most common plastics are polyethylenes (such as from disposable bags), polypropylene, and polystyrene (food packaging).
They also include various additives that make the final product flexible, rigid, fire resistant, etc. At the same time, these additives are potential chemical pollutants, and bacteria that attach themselves to the surface could be biological contaminants.
ANSES (National Agency for Food, Environmental, and Occupational Health and Safety) estimates that 10% of all the plastics produced since the time they were invented would have found their way into the ocean at the end of their life. The French agency is currently undertaking activities to estimate the amount and the nature of plastic particles in certain foods as well as the level of exposure and the risks to human health.  It is also looking to find out whether microplastics could release certain additives that are part of their makeup into foodstuffs.
On the other hand, the agency is working with other foreign researchers to develop common protocols to compare the results obtained in different countries.
Finally, the food safety lab in Boulogne-sur-Mer is taking part in the CPER Marco Regional Project to create a platform to analyze microplastics.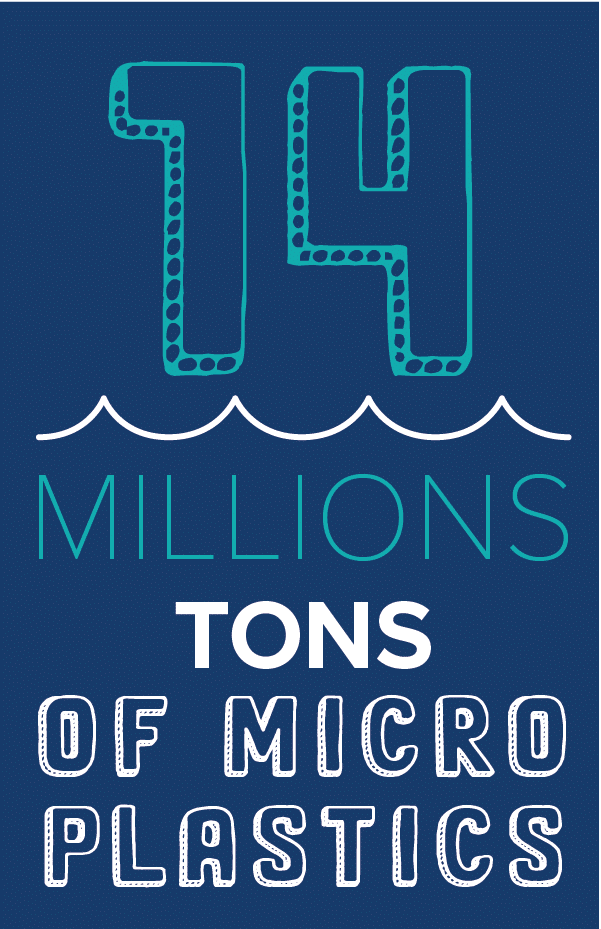 Legislation Paves the Path
Since 2016, EFSA (the European Food Safety Authority) has been pointing out that foodstuffs contain micro and nanoplastics. Since then, experts have identified the need to gather more data on the level of impact on food and the effect on human health. To this end, EFSA is organizing a symposium in Lisbon in May 2021 to talk about research advances in this field. In Europe, regulations can limit the damage, through the "Plastics: the Green New Deal" strategy and the SUP directive (ban on single-use plastics).
At the national level in France, the law against waste and for a circular economy (AGEC) enacted in February 2020 also works in the same direction.
However, any groups with similar interests, such as researchers, legislators, industrialists, and charitable organizations, are welcome to join the cause of putting an end to this planet-wide pollution.
The Ellen MacArthur Foundation is involved. Alongside participating industrialists and through publications like Rethinking the Future of Plastics, it is shining a light on model actions to expand collection and recycling in countries lacking a sorting infrastructure. It is also recommending industrial solutions based on materials that are truly biodegradable and free from toxic components as well as on prevention and re-use.
Some industries, in turn, are taking this matter in hand based on international initiatives, such as the Alliance to end plastics waste and Operation Clean Sweep. This program launched in Europe in 2015 attempts to prevent the shedding of plastic particles (flakes, powder, etc.) into the environment through the various phases of production, packaging, and transportation. This international undertaking currently involves 700 members from among federations, manufacturers, processors, carriers, and recyclers. They are committed to improving their production sites, putting in place an internal procedure to stop the loss of plastics to the environment, raising their employees' awareness of the matter, complying with local regulations, and encouraging their business partners to follow suit.

Onet is specifically committing to preserving the oceans
The Company can act in its own name to contribute to advancing scientific knowledge and to reducing its environmental footprint.
At Onet, these two activities go hand in hand.
Since 2002, we have been enrolled in the environmentally responsible action called A Present for the Future. Based on this experience, we are currently getting ready to become a company with impact via measurable follow-through on social, societal, and environmental matters in all our activities.
This undertaking focuses specifically on three objectives:
promoting any technology that conserves natural resources and maintains biodiversity;
providing services while promoting a circular economy;
aiming towards the decarburization of our activities.
Economic performance and environmental protection should thus complement each other. This guarantees us the constant growth and the constantly increasing profitability that we require for new investments.
At the present time, we are working on a number of projects based on the circular economy and continued health of all our customers and employees. This is evidenced by the fact that we have joined the National Institute of Circular Economy. But our commitment does not end there.
.
Onet Around the World with Fabrice Amedeo

Last year we signed a three-year partnership to support a project by Fabrice Amedeo, a yachtsman committed to saving the oceans and the planet.
As IPCC was publishing its warning in 2019 about a marine world that was warmer, more saline, and less rich in oxygen, we decided to take an active role in combatting global warming.
Specifically, we funded the installation of a sensor aboard skipper Fabrice Amedeo's racing yacht. This sensor, comprising several modules, is able to collect data on water salinity, CO2 concentration and phytoplankton content as well as detect the presence of microplastics.
This information is new because it is collected on the high seas in areas that research vessels visit but once a decade. It is made available to research labs, such as Ifremer.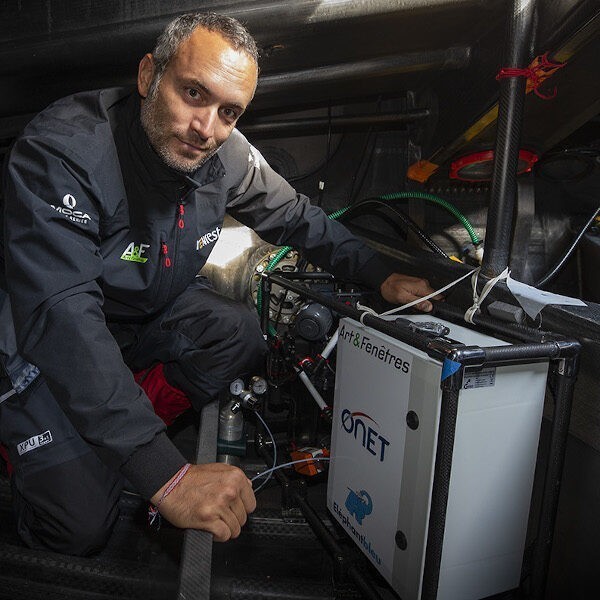 This information is both eagerly awaited and dreaded. It will, among other things:
help map the average concentrations of microplastics by body of water and view them again in the dynamic context of surface circulation;
build a profile of the microplastics' metal contamination by region (North Atlantic, South Atlantic, South Pacific, Indian Ocean);
assess the toxicity of the microplastics in each major body of water all over the globe.
Since his departure, he has been changing the sensor's filters every day and placing them in his filter bag. This takes him a few minutes every day.
In all our industries, we play a part in saving resources. We at Onet are convinced that everyone, at their respective levels, must develop innovative and responsible solutions to meet the major challenges of today and tomorrow. That is why we are committed to supporting Fabrice Amedeo's project. His initiative perfectly corresponds to our Group's values, listening, respect, and boldness, which form the foundation of what we do and to which all our employees subscribe.
Biogistic: An Environmentally Responsible and Sustainable Solution 
As a provider of industrial cleaning services, we are aware of the impact cleaning has on everyone. That is why we have made a commitment to use environmentally responsible products free of chemical components at 95% of the sites entrusted to us.
On the ground this strategy pays off, and for the past two years, has meant that we are using products with environmental labeling and reusing plastic containers. Our Biogistic solution is the first offering based on circular economy principles and helps our teams handle products without risk.
We started from the fact that the use of detergents was not neutral, either for the users' health or for the environment. Thus, we decided to reduce this chemical hazard while controlling costs. By doing so, conventional cleaning products were replaced with ecolabeled ones and with biotechnology, while at the same time our employees were made aware of best practices. This also helps reduce the amount of waste in the environment, especially the oceans.
At the same time, we are working to reduce plastic waste and effluents by using dilution equipment (Dilumob) and reusable plastic containers within the company.
As of the end of 2019, a total of 173 Dilumobs had been installed in the Group's agencies enabling us to save 20 tons of plastic a year, which is equivalent to 400,000 bottles. We have been able to train 7,500 employees on the job.
Five years from now, we are counting on being able to save 2,000,000 bottles while at the same time continuing to work on the environmental design and recycling of plastic cans to cut the amount of waste we produce by 30%.
At a time when businesses are questioning their identities, it is the moment to take action and become a part of the solution to the great challenges of our times. The notions of development and sustainability have always gone hand in hand within our family-owned Group. We believe that we must act together and that businesses have a key role to play in building a better and more sustainable future for all. We believe in the strength of joint endeavors, and for over 150 years we have been working to proceed in this manner at the environmental, societal, and social levels through our sustainable development initiative.
Discover our 2019 Sustainable Development Report