Wearing Your Mask Properly: Important Gesture to Protect People Around You and Your Own Health
As activity resumes, we continue our fight against the spread of COVID-19. Alertness, social distancing, and the use of barrier gestures is the responsibility of each and every one of us to ensure the safety of all. Onet is developing protocols to protect our operators on the job. We feel it is important to share these essential gestures.
Wearing a Mask: a Barrier Gesture
The mask is designed to stop the projection of droplets produced by the wearer towards his or her surroundings.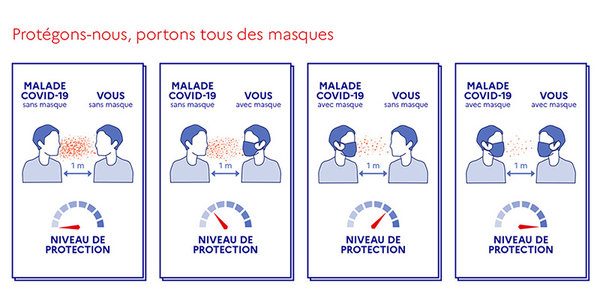 Be careful, the mask does not replace barrier gestures.
It adds a physical barrier when you are in contact with other people.
Wearing a Mask the Right Way:
Discover Onet Protocol
A mask is to be worn in the following manner properly to protect the wearer and those around him or her
Mettre et retirer son masque barrière :
Mettre et retirer son masque chirurgical :